As part of this year's professional day, at the invitation of Prof. Dr. József Bokor, Vice President of the ELKH Governing Board, Scientific Director of ELKH Institute for Computer Science and Control (SZTAKI) and Vice President for Research and Innovation of Széchenyi István University (SZE), the staff of the Secretariat of Eötvös Loránd Research Network (ELKH) visited the ZalaZONE Automotive Proving Ground on 1 June 2023 and also learned about the research activities related to Széchenyi István University that are being conducted at the ZalaZONE Test Centre.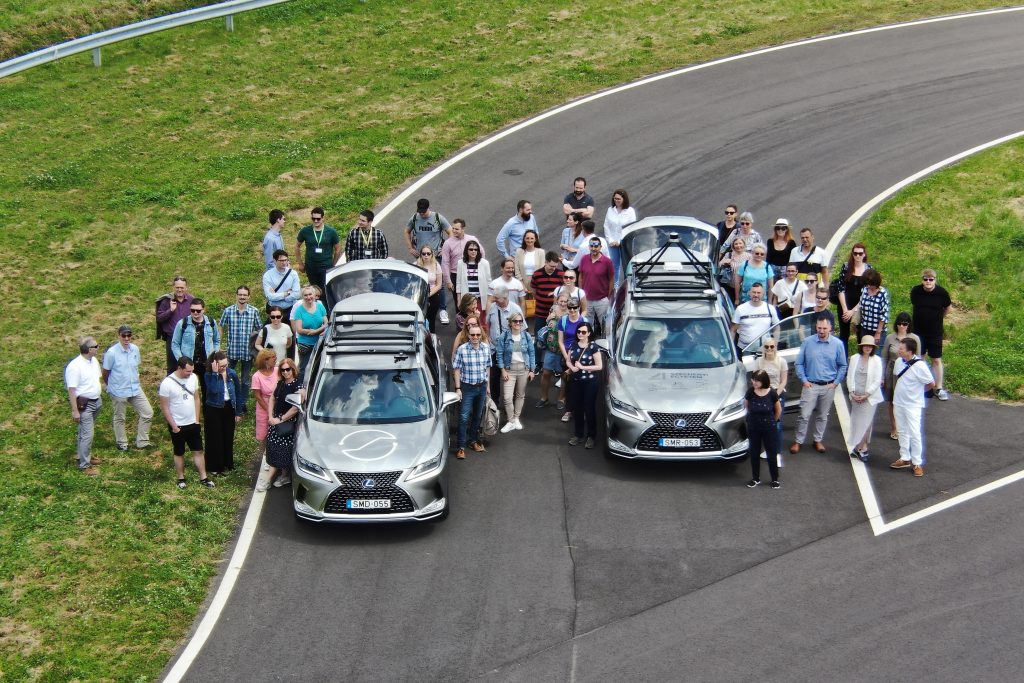 On the professional day, in the presentation of Lóránt Kovács, Project Manager of ZalaZONE InnoTech Kft., the guests visited the ZalaZONE Automotive Proving Ground, which is considered to be a leading infrastructure in the world, and the Automotive Industry Research Centre of the Széchenyi István University (SZE JKK), presented by Prof. Dr. József Bokor, President of the SZE JKK.
The employees of the ELKH Secretariat, led by Dr. András Háry, CEO of ZalaZONE Industrial Park Kft., and Lóránt Kovács, toured the test track by bus, where they received information about its individual elements, technical parameters and the tests that can be carried out there. Afterwards, experts from SZE JKK and SZTAKI gave a demonstration of autonomous vehicle and drone applications on the university track, which was presented by Dr. Ferenc Szauter, Director of SZE JKK.
During the demonstrations, visitors were able to see trajectory tracking by a Nissan Leaf, battery diagnostics via the high-voltage battery system of a Toyota Prius, and the digital twin model of Volkswagen e-GOLF currently being developed by SZE JKK at the ZalaZONE Test Centre. In addition, an autonomous overtaking simulation – where the vehicles continuously monitor their surroundings and detect relevant objects with their LIDAR sensors – and a demonstration of camera systems mounted on industrial multirotor drones were also part of the programme. The demonstration was attended by Dr. Ernő Horváth (SZE JKK), Patrik Bézi (SZE JKK), Gábor Szakállas (SZE JKK), András Wellner (SZE Digital Development Centre), Miklós Korcz (SZE Digital Development Center), Dr. Szilárd Aradi (Budapest University of Technology and Economics, BME and SZTAKI), Olivér Barta (BME), Árpád Fehér (BME), Ádám Szabó (BME), Prof. Dr. Tamás Szirányi (SZTAKI), László Tizedes (SZTAKI) and Marcell Kégl (SZTAKI).
In the afternoon, the guests visited, among others, the simulation laboratories and the material testing laboratory, where they were informed about the research being carried out there, as well as the dual training programme. During the discussions held as part of the professional day, the colleagues also discussed the possibility of further cooperation between ELKH and ZalaZONE.